MATEK FLIGHT CONTROLLER F722-HD
STM32F722, MPU6000, BMP280, 32M flash Blackbox, 10x PWM outputs, 6x UARTs, I2C, BEC 5V and 8V, 3~8S supported, DJI FPV OSD supported.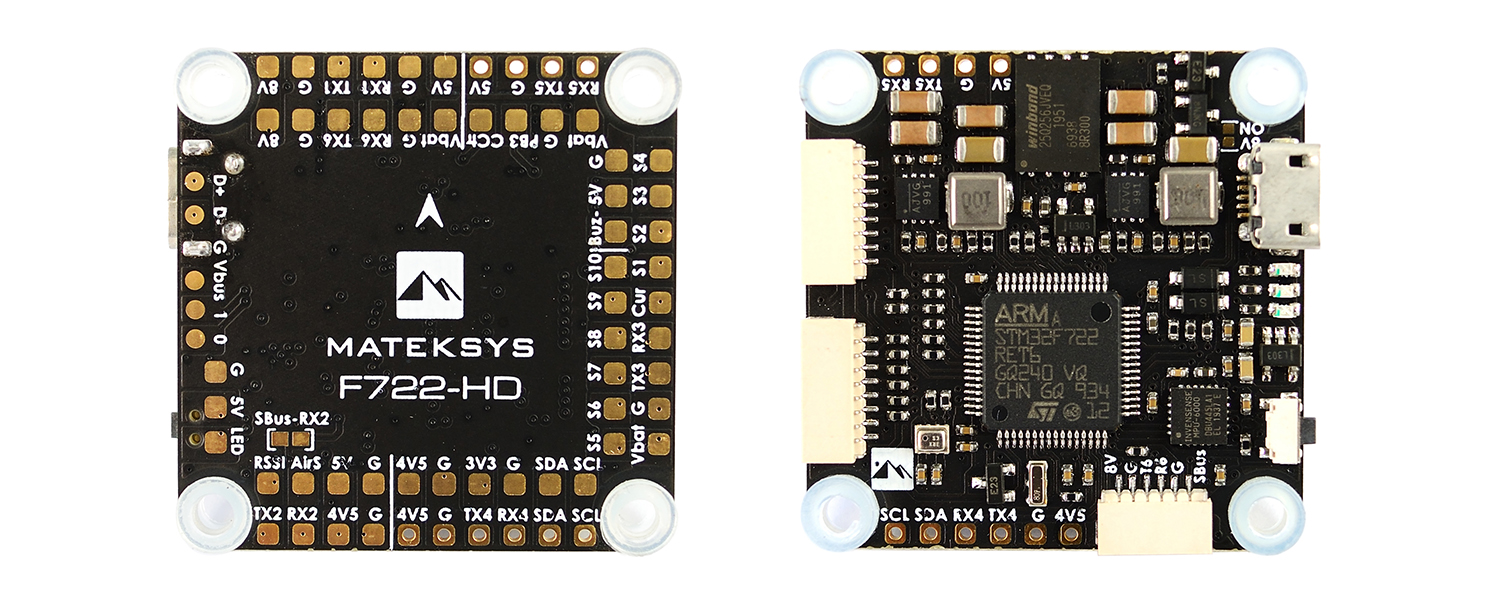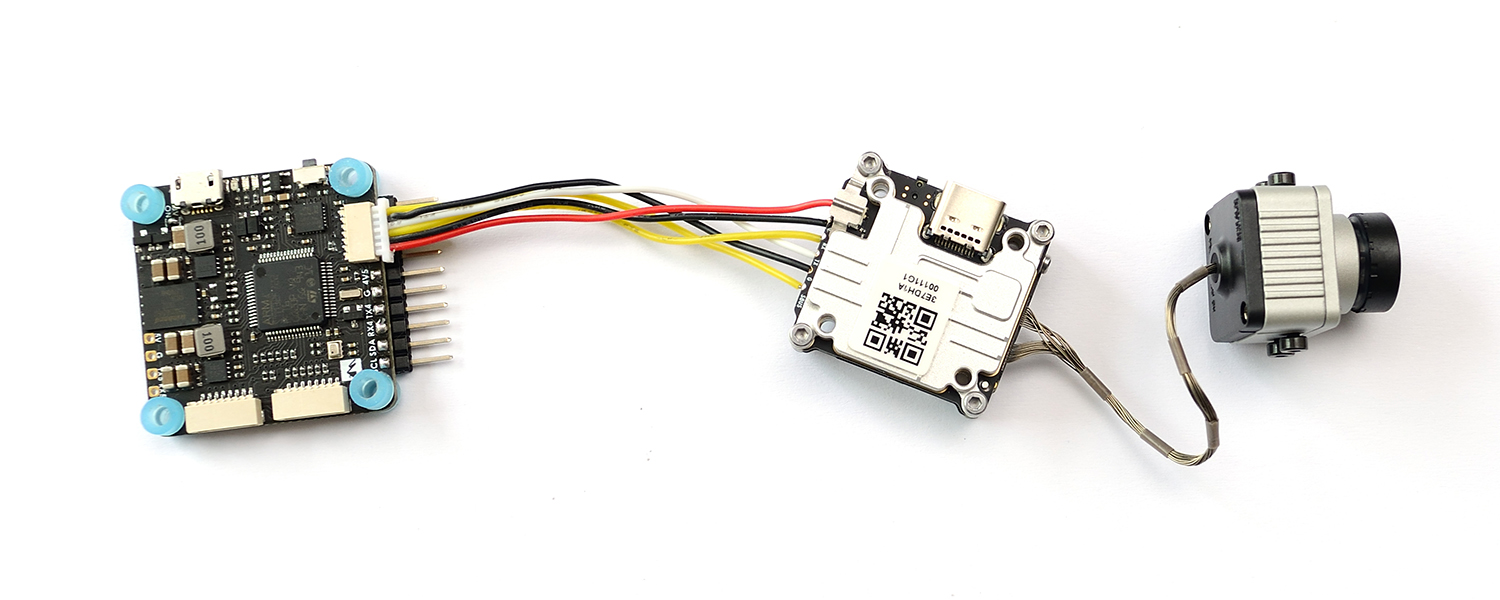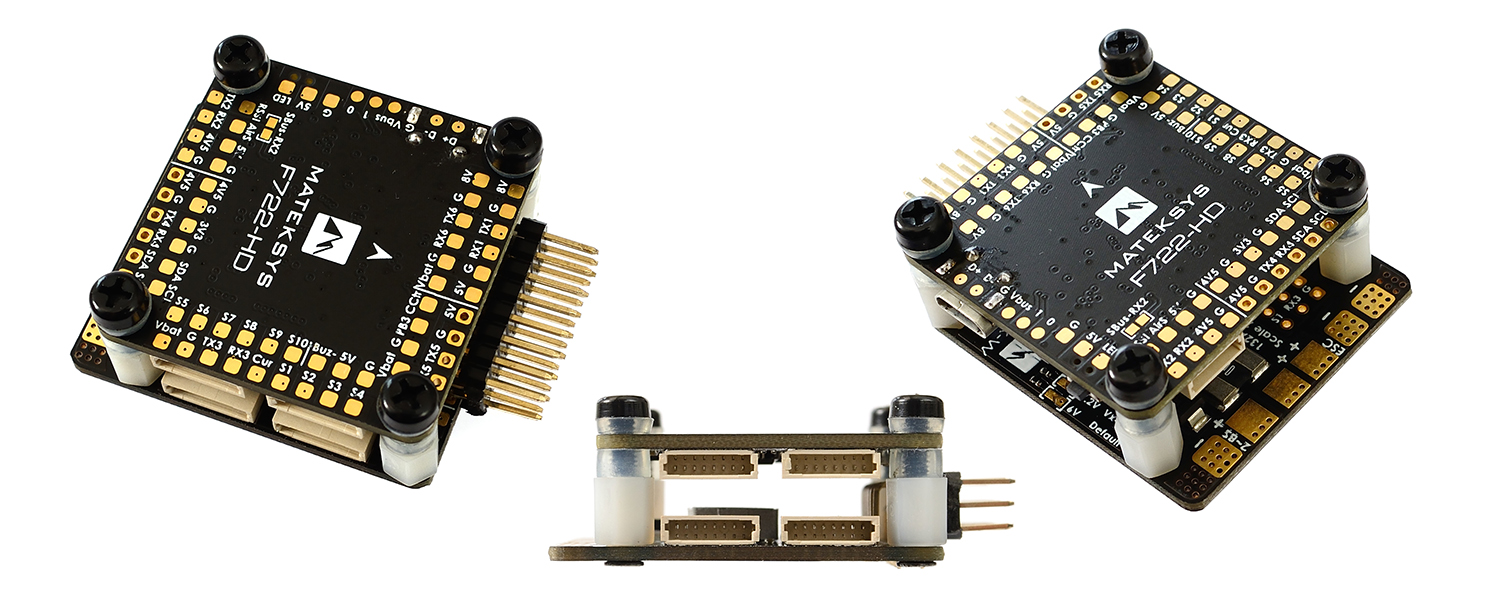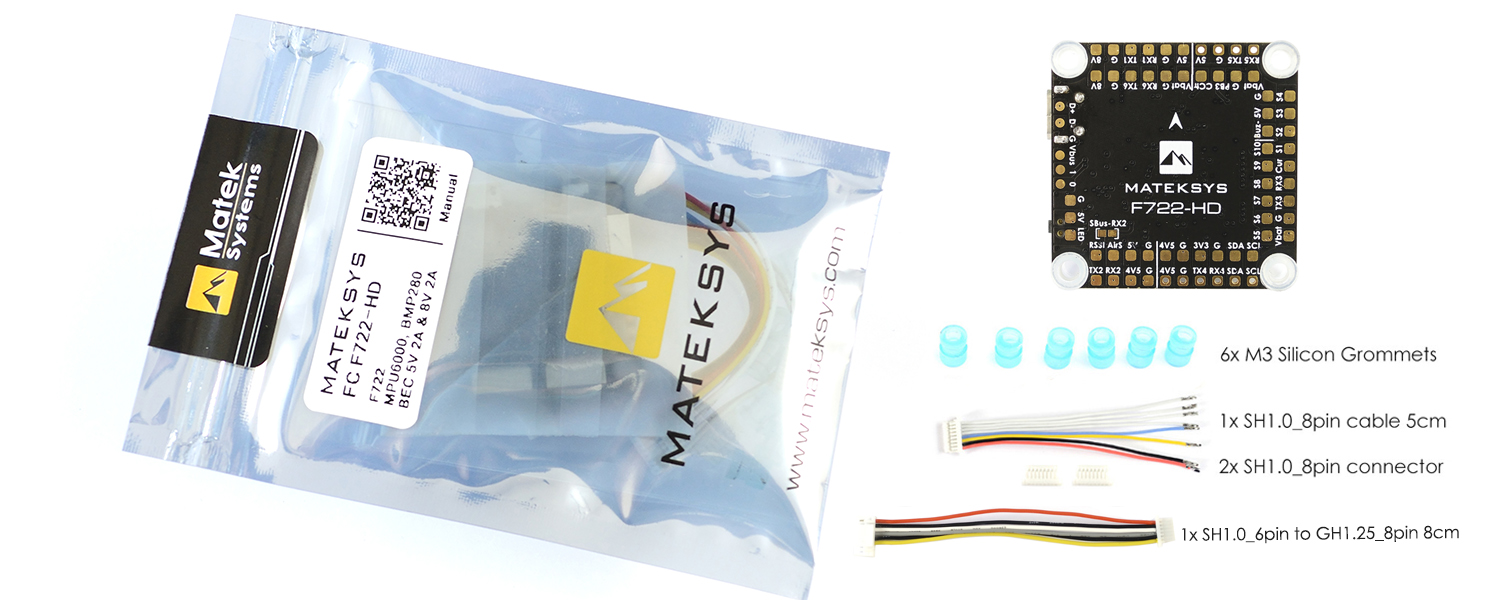 ---
FC Specifications
MCU: 216MHz STM32F722RET6
IMU: MPU6000 (SPI)
Baro: BMP280 (I2C)
Blackbox: 32M-byte Flash memory (SPI)
OSD: Support external DJI OSD/FrskyOSD,  No Analog MAX7456 OSD built-in
6x Uarts with built-in inversion
1x Softserial_Tx option
10x Dshot/PWM outputs
1x I2C
4x ADC (VBAT, Current, RSSI, AirSpeed)
2x SH1.0_8pin connector (Vbat/G/Curr/Rx3/S1~S10)
1x SH1.0_6pin connector for DJI FPV Air Unit
3x LEDs for FC STATUS (Blue, Red) and 3.3V indicator(Red)
PWM camera control: Yes
TR/SA VTX control: Yes
WS2812 Led Strip : Yes
Beeper : Yes
RSSI: Yes
Analog Airspeed sensor: Yes
Digital Airspeed sensor: Yes
Power
Input: 9~36V (3~8S LiPo)
BEC: 5V 2A cont. (Max.3A)
BEC: 8V 2A cont. (Max.3A)
LDO 3.3V: Max.200mA
Battery Voltage Sensor: 1:10 (Scale 110)
No Current Sensor built-in
FC Firmware
BetaFlight unified target: MATEKF722HD(MTKS)
INAV target: MATEKF722PX
Physical
Mounting: 30.5 x 30.5mm, Φ4mm with Grommets Φ3mm
Dimensions: 36 x 36 x 5 mm
Weight: 6.5g
Including
1x FC F722-HD
6x Silicon grommets M4 to M3
1x SH1.0_8pin cable 5cm
2x SH1.0_8pin connectors
1x SH1.0_6pin to GH1.25_8pin cable 8cm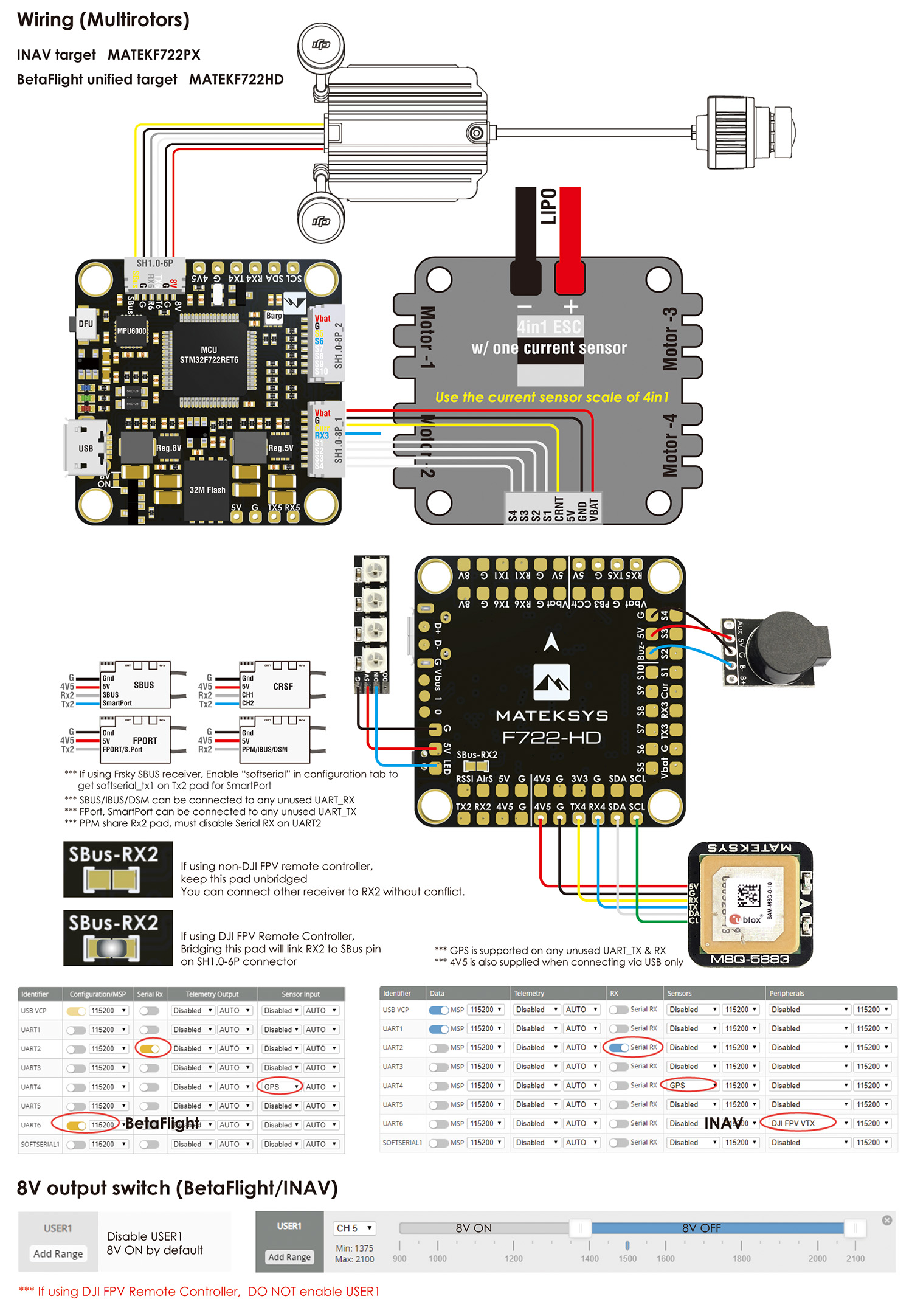 INAV Airplane
INAV Multirotor
BF Multirotor
 
S1
Motor
Motor
Motor
TIM8
S2
Motor
Motor
Motor
S3
Servo
Motor
Motor
TIM3
S4
Servo
Motor
Motor
S5
Servo
Motor
Motor
S6
Servo
Motor
Motor
S7
Servo
Motor
Motor
TIM2
S8
Servo
Motor
Motor
S9
Servo
Servo
Servo
TIM4
S10
Servo
Servo

Servo
BetaFlight unified target MATEKF722HD , or download betaflight firmware from HERE
Select "MATEKF722HD" in pull-down list of BetaFlight configurator when you flashing it.
In BetaFlight CLI mode, type   " resource SERIAL_TX 11 A02 " if you want to use TX2 pad as softserial1_TX.
If using FrskyOSD module,  enable FrskyOSD on Uart6 in BF configurator 10.7 or latest.
***
INAV target MATEKF722PX
INAV firmware has FrskyOSD enabled on Uart6 by default,  replace it with "DJI FPV VTX" protocol.
More Information

| | |
| --- | --- |
| Brand | MATEK |